ARTFUL TRUTH
VIRTUAL STUDENT ART EXHIBITION 2001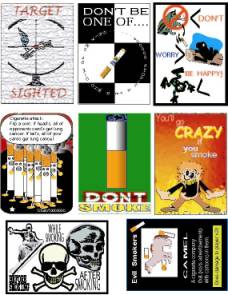 You'll Go Crazy If You Smoke
Holographic cards
3 1/2 x 2 1/2 in.
Manatee School of the Arts, Palmetto
Instructor: Debra Cline
The 2001 Artful Truth Student Art Exhibition features some of the art works created by the fourth- through sixth-grade Florida students who participated in the Artful Truth-Healthy Propaganda Arts Project. More than 1,200 students in 30 programs throughout Florida contributed to this innovative project. Using a wide variety of media, students created original artworks that convey persuasive messages about tobacco use. From ceramics and paintings to videos and computer graphics, students responded most creatively to the challenge of Artful Truth.
You can view the works of the exhibition by selecting one of the participating schools or community organizations from the List of Exhibitors or by scrolling through the exhibition below.
List of Exhibitors:
---
Be Happy Stay Smoke Free

Mixed media relief
72 x 72 x 12 in.
Seabreeze Elementary School, Jacksonville Beach
Instructor: Sarah Bissell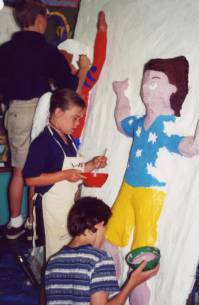 ---
Smokin' Lung
Acrylic on papier mache
14 1/2 x 10 x 4 1/2 in.
St. Margaret Mary Catholic School, Winter Park
Instructor: Katy Bretz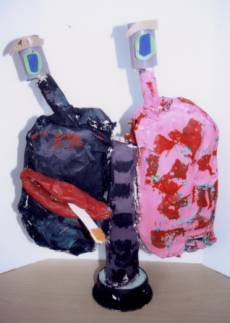 ---
Keep Your Butt(s) Out of My Neighborhood
Mixed media collage
28 x 22 in.
Flagler Teen Center, Palm Coast
Instructors: Erma S. Brooks and Adrienne Felton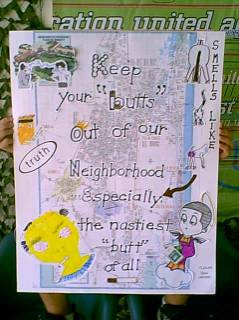 ---
Don't Smoke
Holographic cards
3 1/2 x 2 1/2 inches each card
Manatee School for the Arts, Palmetto
Instructor: Debra Cline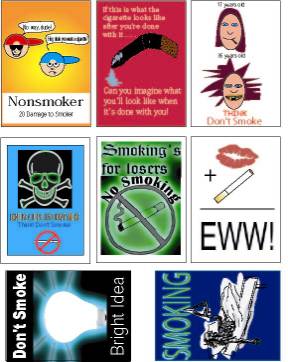 ---
Don't Smoke - Spread the Message
Ink on fabric
Kingswood Elementary, Brandon
Instructor: Christine E. Charlton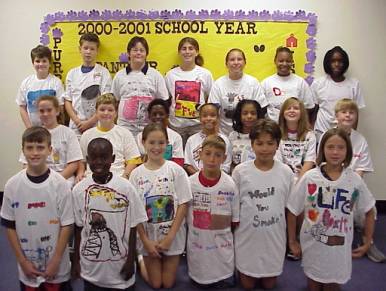 ---
If Only I Had New Lungs
Mixed media
62 x 28 x 28 in.
Oakland Terrace Elementary, Panama City
Instructor: Michelle Creel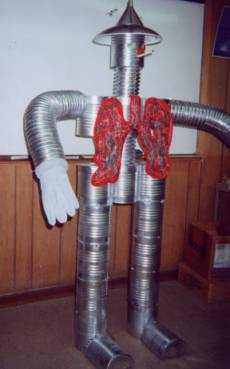 ---
Let's Stamp Out Smoking
Tee Shirt Design
9 x 9 in.
Gulf Gate Elementary, Sarasota
Instructors: Adrian Doctor and Kyle Lundquist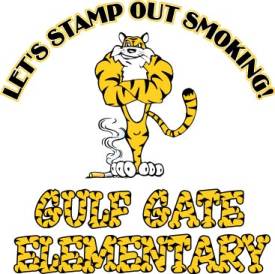 ---
Artful Truth Tangram Puzzles
Markers on foam core
9 x 9 in.
Cutler Ridge Middle, Miami
Instructor: Pamela Formosa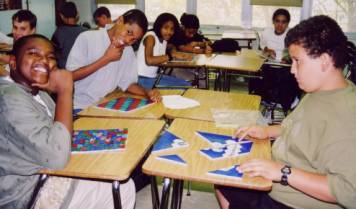 ---
The Message Café
Mixed media installation
108 x 168 x 240 in.
ArtHaus Foundation, Port Orange
Instructors: Dana Hoffman, Kim Sander, and Bradford G. Budd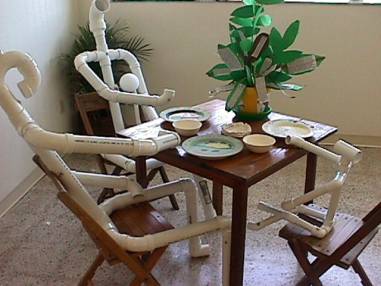 ---
The Truthful Advertising Agency
Posters and labels for Popcorn
Rockway Elementary, Miami
Instructor: Kathleen Hull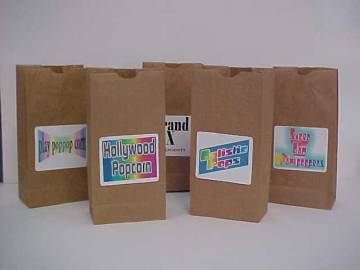 ---
Artful Truth Police
Still photo from video
Banyan Elementary, Miami
Instructors: Stella Summers and Paige Karaboyas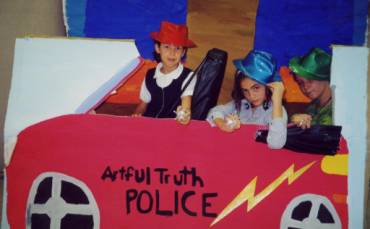 ---
Artful Truth Sketches
Photo of dance performance
Klein Dance, Inc., Lake Worth
Instructor: Kathleen Klein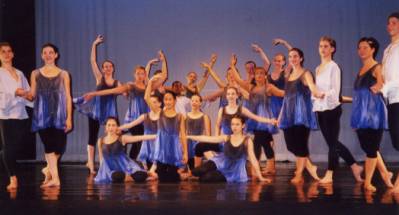 ---
Artful Truth Throughout History
Mixed media: digital portraits, paper, and cloth
10 x 2 x1/2 in.
The Program for Academically Talented Students, Pensacola
Instructor: Maurine Kramerich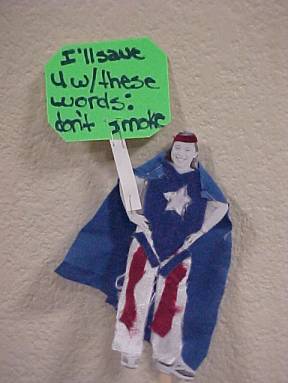 ---
Big Books "Blast" the Artful Truth
Mixed media collage
24 x 17 in.
Laurel Nokomis School, Nokomis
Instructor: Reva Levy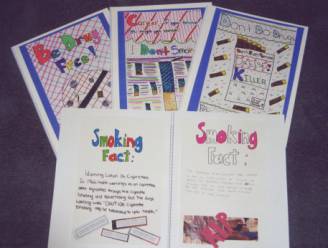 ---
No Smoking in Our Neighborhood
Still photo from claymation video
Pine Grove Elementary, Delray Beach
Instructor: Pat Littlechild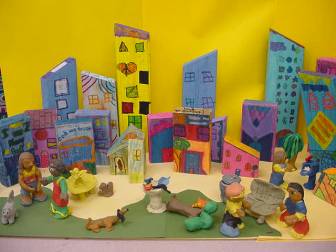 ---
Do Not Smoke - Just Say No!
Drawing
11 x 81/2 in.
Coral Sunset Elementary, Boca Raton
Intructor: Sue Mochtak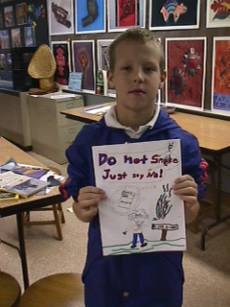 ---
Congratulations Mom! You stopped smoking.
Postcard
4 x 6 in.
Deltona Lakes Elementary, Deltona
Instructor: Jan Rodi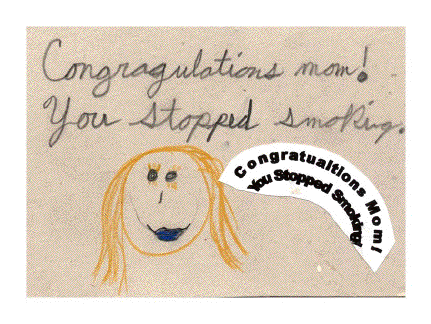 ---
Student Quilt
Paint on fabric
74 x 48 in.
Mel Fisher Maritime Heritage Society, Key West
Instructor: Jane Rohrschneider

---
No Ifs, Ands, or Cigarette Butts
Cover for video box
7 1/2 x 4 in.
Tommy Smith Elementary, Panama City
Instructor: Sandra Rosengren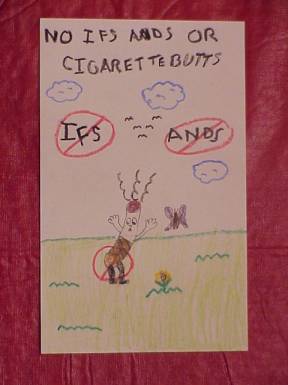 ---
Dudes with a Message
Mixed media – sculptor
60 x 30 x 12 in.
Edgewater Public School, Edgewater
Instructor: Michelle Stull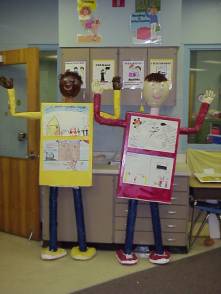 ---
The Truth is Ugly
Mixed media collage
42 x 20 x 22 in.
Fessenden Elementary, Ocala
Instructor: Martha Ulakovits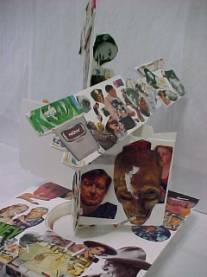 ---
Quilting to the Truth
Paint on fabric
74 x 48 in.
Jupiter Middle, Jupiter
Instructor: Sandi Vanacore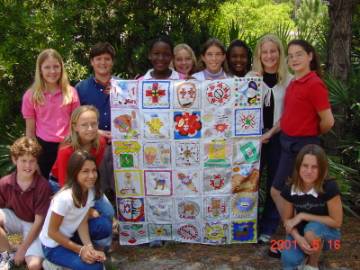 ---
Anti Tobacco Montage
Collage
12 x 18 in.
Bunnell Elementary, Bunnell
Instructor: David Young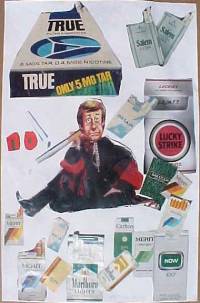 ---
The files below require Quicktime for viewing. If you do not have Quicktime, please click the link below to download it.


Click an icon below to view the movie.


The Three Little Hearts and the Big Bad Cigarrette
Video
7:30 Minutes
Glade View Elementary, Lake Worth
Instructor: Annette Wacker and Dov Fahrer
---


Tobacco Chain Gang
Video
1:00 minutes
Pine Grove Elementary, Delray Beach
Instructor: Pat Littlechild
---


Fun With Media: Just Don't Do It
Video
9:00 Minutes
Ft. Lauderdale Children's Theater, Ft. Lauderdale
Instructors: Elizabeth Ritchie and Patti Meyers

---


Smart Humans?
Video
00:25 Minutes
Pine Grove Elementary, Delray Beach
Instructor: Pat Littlechild